About the company
Our company was established in 1989 as EUROTECH Ltd, which in 2013 evolved into EUROTECH SA. The company's main field of activity is: trade of instrumentation and special equipment for construction and industrial applications, as well as consultancy in the respected areas, for both the public and private sectors.
Nowadays, EUROTECH SA's trading activity includes products by selected Suppliers allover the world and specifically:
Measuring instrumentation, e.g. geotechnical instrumentation, seismic instrumentation, pressuremeters, penetrometers, pile testing equipment, tunnel seismic prediction systems, industrial instrumentation and
Special equipment, e.g. anchor grout pumps, forepoling, mortar mixing pumps, grouting systems and packers, cement pumps, cap lamp systems and CARDOX high pressure breaking system.
After-sales service is provided for all products by the company's trained personnel.
Furthermore, EUROTECH SA offers consulting services in mining and other construction areas, mainly by means of planning and developing geotechnical, environmental and other studies. For the development of such studies, the company implements monitoring plans with its own equipment.
EUROTECH SA's scientific personnel consists of engineers and scientists in various fields. The company Management emphasizes on the personnel's constant education and training.
ISO Certification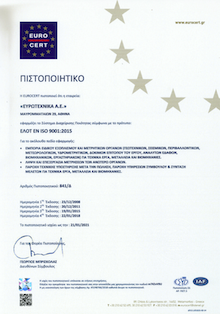 Our company is certified by the inspection and certification company Eurocert and applies a Quality Management System, which is in full compliance with the Standard ELOT EN ISO 9001:2015, concerning the following field:
"Sales of special equipment and measurement instruments (geotechnical, seismic, environmental, meteorological, hydrometric, in situ, soil analyzers, industrial, laboratory) for construction projects, mines and industries
Data taking and evaluation of the results for the above instruments
After-sales service, consulting services & studies for construction projects, mines and industries"