Our products > Studio Prof. Marchetti Srl
Marchetti Dilatometer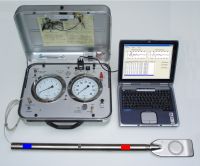 Description:
The Marchetti Dilatometer determines various geotechnical parameters in a precise and practical way that distorts the soil substantially as little as possible due to its specially designed blade. The combination of the standard dilatometer with a seismic module of two outfitted sensors is used for the determination of the shear wave velocity.
Types:
Flat Marchetti Dilatometer DMT, Seismic Marchetti Dilatometer SDMT
More information
Suppliers: Studio Prof. Marchetti Srl
Products
Please select a product from the categories provided or search our website for the product of your choice.
Measuring instruments
Building & construction machines
Industrial equipment
Special construction equipment