Our products > Devico AS
DeviCore Core Orientation System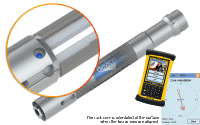 Description:
Core orientation systems are used to retrieve oriented cores, which provide valuable information about the formation, rock and ore body geometry. The core orientation system DeviCore BBT , the latest innovation from Devico, is equipped with three high-accuracy accelerometers and measures inclination, orientation, gravity vector, temperature etc.
Available for sale or rental.

Types:
Suppliers: Devico AS
Products
Please select a product from the categories provided or search our website for the product of your choice.
Measuring instruments
Building & construction machines
Industrial equipment
Special construction equipment